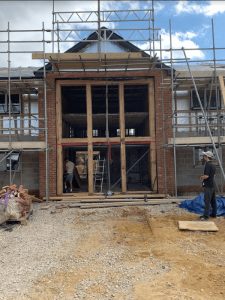 Are you looking for a house builder in Hertfordshire to build a new home or invest in a new construction project? Look no further! Holmwood Construction, House builders are professionals who specialise in the construction of new homes and other buildings. Our project managers will handle every aspect of the building process from start to finish, including budgeting, scheduling, and overseeing the construction crew.
When building a new home, there are many factors to consider. You'll need to decide on a budget, choose a location, and determine the size and style of your new home. You'll also need to consider the amenities you want, such as a garage, a deck, or a pool.
Holmwood Construction Luxury House Builders Hertfordshire
Welcome to Homewood Construction, the premier luxury home builder in Hertfordshire.
At Homewood Construction, we specialise in building custom, high-end homes that reflect our client's unique styles and desires. Whether you have a clear vision for your dream home or need guidance in creating the perfect design, our experienced professionals are here to help.
Our homes are built with the highest quality materials and craftsmanship, ensuring that your home is not only beautiful but also built to last. We are committed to using sustainable building practices and incorporating energy-efficient features into our homes.
Our team is dedicated to providing exceptional customer service and ensuring that the building process is seamless and stress-free for our clients. We work closely with you every step of the way, from initial design to completion, to ensure that your home meets all of your needs and exceeds your expectations.
If you want to build your dream home in Hertfordshire, look no further than Homewood Construction. Contact us today to schedule a consultation and start bringing your dream home to life.
Please contact us to discuss your project and see how we can help.
Why Work With Holmwood Construction For Your House Builder in Hertfordshire?
One of the most significant benefits of working with our house-building team is the level of expertise and experience we bring to the table. Our professional project managers and tradespeople deeply understand the construction process and can guide you through every step. They can help you make informed decisions about materials, design, and other essential aspects of the build.
Another advantage of working with Holmwood construction is the ability to customise your new home to your exact specifications. Whether you want a traditional two-story home or a modern, energy-efficient design, a housebuilder can help you bring your vision to life. They can also help you incorporate features like green technology or universal design, making your home more comfortable, efficient, and accessible.
There are many reputable house builders, so it's essential to do your research before selecting one. Consider factors such as the builder's reputation, experience, and the quality of their work. You should also ask for references and speak with past clients to understand their satisfaction with the builder's services.
Once you've chosen a house builder, you'll work closely with them to create a detailed plan for your new home. This may include creating blueprints, selecting materials, and establishing a budget. Your builder will also handle all the necessary permits and inspections to ensure that your new home meets all local building codes and regulations.
During construction, your house builder will oversee the crew's work and ensure that everything is progressing according to plan. They'll also be available to answer any questions or address any concerns you may have.
When the construction of your new home is complete, your house builder will conduct a thorough inspection to ensure that everything meets their high standards of quality. They'll also provide a warranty to cover any defects or issues arising during the first year of ownership.
Building a new home is a major investment, and working with a reputable house builder is the best way to ensure a successful and stress-free process. So if you're ready to take the plunge and build your dream home, don't hesitate to reach out to a house builder today!
Holmwood Constructions New House Building Team in Hertfordshire
When building a new house, many tradespeople are essential to the process. These professionals bring their specialised skills and expertise to the construction project, ensuring that every aspect of the build is completed safely and to a high-quality standard.
One of the key professionals involved in the construction of a new house is the project manager or general contractor. This professional oversees the entire project, coordinating the work of the various tradespeople and ensuring that the construction stays on schedule and within budget.
Other tradespeople who may be needed to build a new house include:
Carpenters: These professionals are skilled in building and installing the wooden structures and fixtures of a home, including framing, flooring, and cabinetry.
Kitchen fitters: We have dedicated team fitters that work together to install the kitchen, and their work is always to the highest standards.
Bathroom fitters: Our fitting team also specialise in fitting bathrooms, and our fitting team works together daily, fitting kitchens and bathrooms throughout Hertfordshire.
Electricians: Electricians are responsible for installing and maintaining the electrical systems in a home, including wiring, outlets, and lighting.
Plumbers: Plumbers handle the installation and maintenance of the plumbing systems in a home, including pipes, faucets, and water heaters.
Gas and Engineers: These professionals install and maintain a home's heating gas services.
Grounds and Concrete workers: Concrete workers prepare and pour concrete foundations, driveways, and other structures.
Roofers: A roofer is responsible for installing and repairing the roof of a home.
Drywall installer: This tradesman installs and finishes drywall, which is used to create walls and ceilings.
Painters: Painters apply paint, wallpaper, and other finishes to a home's interior and exterior surfaces.
Landscapers: Landscapers handle the design and installation of the outdoor spaces of a home, including gardens, patios, and walkways.
It's essential to hire skilled and experienced tradesmen for your new home construction project to ensure that the work is completed safely and to the highest quality. 
Please contact us if you want to discuss your project or find out more about our house-building process.